Posted by Priority Tire on Sep 9th 2022
Often we wait for the best time to buy tires online. Waiting to get reasonable tire prices is a noble cause. Sometimes versatile set of tires cost an arm and a leg. Therefore, the question on our consumers' minds is: When to get new tires?
Purchasing good tires for cheap is an art form. It requires patience, dedication, and excellent timing. Well, almost...
This process doesn't need to be as tedious as it sounds. Finding a good deal on tires is not actually rocket science. However, there are a few tips and tricks every car owner can use to get a bang for their buck, especially with tire prices going up.
So, what can we do to make a sale for the best tires for less $? When to buy new tires?
Yes, there are best times to buy tires, both online and locally.
The Best Time to Buy New Tires
At times, we cannot control when we need replacement tires. However, if we are meticulous with tire maintenance and check our tires often, there are sure signs that show we will need new tires soon.
Tire prices fluctuate! For this reason, it is good to know when your old set is about to give out. It allows you to plan ahead and research tire replacement sets.
Do you have a tire brand you are set on? You don't need to compromise for a lesser set, as long as you calculate and get them during the best time to buy tires.
But, when is the best time to buy tires? Priority Tire is here to tell you, just keep reading!
The Best Month to Buy Summer Tires
Arguably, summer and winter tires will not be purchased at the same time. Therefore, the best month to buy tires will depend on its weather-performing capabilities.
Summer tires usually come with performance and high performance capabilities. This increases their price. The average cost of 4 new tires for the summer season starts at $200 and goes up depending on the tire brand, model, and type you wish to purchase.
That means preparing for summer road trips will cost at least that much if you need a new set of tires at the last moment. But, why not prepare beforehand?
Tire shops are always ready for the summer! More so, summer tire prices increase when summer actually starts. It is best to purchase seasonal tires before their season actually starts.
Therefore, the best time to buy tires for summer is in April!
Most tire shops offer tire deals on summer sets in April, in preparation for the upcoming months. You will be able to purchase quality tires at lower prices and save money in the process!
This is When You Should Purchase Winter Tires
The same applies to buying winter tires as well. Purchasing a winter set when the season already started is not the most budget-friendly decision. This is even more true as winter tires tend to be expensive.
Their compound, detailed tire tread, and deeper tire tread depth are the cause of this. They increase the price of production, which makes winter tires more expensive. Yet, that does not mean you need to go bankrupt to stay safe in the winter months.
As with summer models, tire manufacturers and retailers offer special winter tire sales before the season actually starts. These sales are usually before the expected date when the residents of some states are required to switch to winter tires (yes, we are looking at you, Nothern states).
So, check online or visit your local tire shop in October for winter tires!
As most state laws require their residents to change to winter tires in early November, tire retailers use this opportunity to run sales. If you can, withhold getting four tires for winter until these sales start.
Buying All Season Tires vs Winter Tires
Now the question remains: do you need tires for light snow conditions or severe winter conditions? Yes, it makes a difference!
True snow tires have the 3PMS on their sidewalls, indicating that their tread groove and siping pattern can handle harsh winter conditions. On the other hand, standard all season tires offer minimal ice and snow traction, but they are not the best in severe situations.
Owners need to decide what they need to get. This decision greatly depends on the vehicle's tire size, surrounding weather conditions, driving frequency, and driving habits, just to name a few.
Manufacturers lower prices of winter tires before the cold season starts, but when it comes to all season tires there is not really a best time to buy them.
As all season tires can handle light winter situations, many drivers consider them as an alternative to winter tires. If you live in a warmer climate, that might be true. But, if your local area experiences heavy snow and freezing temperatures, mounting all season tires on your vehicle will lead to a disaster.
In those cases, it is better to buy snow tires instead of standard all season tires. They are more expensive, but they will protect your vehicle and cost less in the long run.
Now, for those vehicle owners living in warmer temperatures (which rule year-round), purchasing all season tires might be the better idea. But, when is the best time to buy all season tires?
Tire buying is easiest for all season tires. While they don't have a specific season they are used in, they are often given a specific all season tire sale during the year, provided by a tire company. Wait out a sale that works for you and get new tires then.
The Worst Time to Buy Tires
After talking about the best time to buy tires, let's look at the opposite.
This time is when prices increase. Tire brands and retailers know the market. They know that consumers who are in a pinch will pay more for new tires. Whether you got a defective tire on your hands or just missed the seasonal tire deals, you still need new tires and the market uses this.
If you have a damaged tire and no full-sized spare, there is not much you can do. But, planning is always a good idea. Just be sure to evade the seasons' start, when prices of summer, winter, and all season tires increase!
Tips on Buying Tires Online
When it is time to buy tires, you can turn to online tire retailers. They make the process of buying car tires easier, as you don't have to go through the headache of actually visiting a tire shop.
However, there a few things you should keep in mind to make this process easier for you. The best time of the year to buy tires still applies even with online shopping. This "buy time" depends on the type of tire tread you need, as discussed above.
Let's go through a few tips you can use the next time you need four new tires.
Ask a Mechanic
If you are uncertain whether you should get new tires or not, consult with your mechanic.
They will be able to inspect the tires for you. Check the condition they are in, the tire tread depth and manner, etc. Furthermore, they will be able to provide you with valuable information about what you need to purchase.
While it might be tempting to get bigger tires because they have a better price, that is not the best idea. Each vehicle needs specific tires to safely perform. This information is located on the tire's sidewall. However, if you are not sure, it's best to ask a professional.
Keep an Eye Out for Discounts
The best time of year to buy tires is when they are on sale. Retailers selling tires know when the "season" of each tire type starts and ends. For this reason, you need to keep an eye out for discounts.
The easiest way is to sign up for the newsletter of your favorite tire shop. You can sit back, relax, and let the retailers remind you of when the best time to buy tires is.
Buy a Set of Four Tires
Unless you have a damaged tire on your hand and the other three are in perfect shape, do not buy tires one by one. It might be tempting to spend less four times, but you will most likely not get good deals in this manner.
Instead, decrease the four tires' cost by purchasing them at the same time. Often tire stores offer better prices when tire sets are purchased together, even if your vehicle has a staggered tire size structure.
Search for Rebates
Rebates are when manufacturers provide cash-back for purchased items. Yes, tire brands also participate in this game.
The first brands that pop into our minds who often offer rebates are Goodyear, Cooper, and Mickey Thompson, but they aren't the only ones. Waiting for rebates might be the best time to buy tires, as they provide better prices in the end.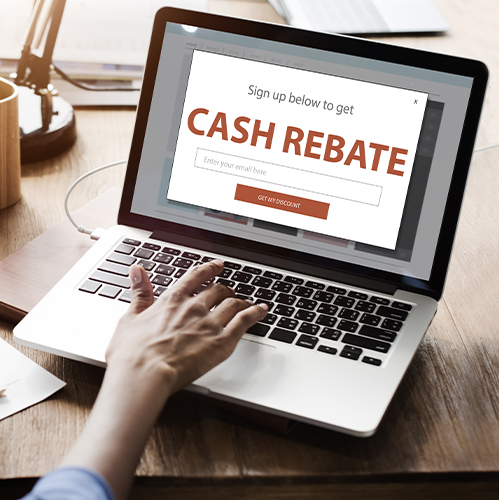 The only downside is that you will have to fill out the documentation and go through the rebate process to save money. For some that is too much work. However, if you are ready and willing, the tire gods will shine upon you.
You can also find tire rebates on Priority Tire when they are available, making buying tires that much easier.
Look for Cashback Portals
Cashback portals are the new craze. Well, they've been available for a while now, but not many tire retailers were available on their portals.
These websites or apps provide a cashback for each and every purchase made through their system. Therefore, they make the "When is the best time to buy tires?" question redundant.
Using a cashback website like Rakuten, will earn you a percentage back from the price of the new tires. In this manner, even if you don't find the perfect tire deal, you can still save money.
Buying New vs Used Tires
Some vehicle owners turn to used tires as a cheaper alternative. These tires were already removed from cars and resold as used products, so they come with some drawbacks. Sadly, not all used tires are top quality.
However, let's discuss the positives first.
Aside from their price, the next positive is that the best time to buy tires is all year round. As these are used products, automatically their prices will be lower. Matching four tires might be a problem, as often they are not sold in sets, but it is still possible.
Yet, like with all used items, you need to be careful.
How to Check Used Tires for Quality?
When you buy tires that have been previously used, there are a few things you need to check. This inspection ensures that the tires you buy are still safe to use, even if they are not top quality.
Let's start with the tread depth and wear patterns. Tires are no longer usable when their tread depth reaches 2/32". Purchasing a model with a worn tire tread will result in ruined driving safety. Worn-down tires do not offer the necessary traction and controllability for secure performance.
Furthermore, not all tire treads wear in the same manner. Depending on many external factors (vehicle alignment, air pressure levels, road hazards, driving habits, etc.), tires can develop irregular wear formations. This makes them dangerous, even if they are not fully worn-down tires.
The third thing to check is the tire manufacturing date. While correctly stored tires can be a bit older when you purchase them, you need to be careful with used tires. An old DOT, or so-called "expired tires", can quickly develop dry rot - an irreversible tread damage caused by tires drying out.
Lastly, repairs and patches can shorten the length of the tire time and lifespan. When looking for used models, buy tires without repairs if possible. Check for other types of damage as well, like the tire's chipping, cracking, tearing, or dry rot.
What Makes Used Tires Unsafe?
Used tires are a risky investment. They are cheaper than new standard all season tires (or winter and summer tires), but they come with risks.
In the previous section, we went into detail about the quality check you need to conduct before getting used tires. However, let's summarize.
What makes used tires unsafe:
Worn-down tread depth
Uneven or patchy tread wear
Old tire manufacturing dates
Tread damage and repair
Possible constructional damage
The Benefits of Buying New Tires
Wether you wish to buy all season tires, summer models, or a winter set, arguable getting new tires is the better option. But what other benefits do new tires offer?
The pros of new tires include:
Full tread depth and even tread wear
Newer tire date codes
No repairs, no road hazards, no damage
Manufacturer's warranties
Yes, if you buy tires that are new, their tread depth will be full. As they have not started wearing yet, their footprint will be even as well.
No damage means no repairs are on the tires. Unless you are unlucky enough to hit a massive pothole immediately, they will serve you for a long time.
Most tire brands will stand behind their products! They offer craftsmanship and treadwear warranties with their models, which protect you from any untimely issues, like structural problems and premature wear.
So, when is the best time to buy tires? Whenever there is a sale or whenever you are digitally prepared for the task!
FAQs
How long does it take to get new tires?
New tires can be purchased at online tire retailer shops quickly. For example, Priority Tire offers fast and free shipping with each and every order. Therefore, your tire order will be at your doorstep within a week.
How old should new tires be when you buy them?
When you need new tires, optimally we would get ones with the newest possible DOT codes. Yet, we must keep in mind that tires need a few months to reach the retailers after the production process. This, plus the modern storage possibilities protect tires. Therefore, 1-2-year-old tires can be safely purchased.
Are tires cheaper on black friday?
Yes, tires are often cheaper on Black Friday. This is due to the special sale Priority Tire runs each year. However, we offer discounted prices and run sales all year round for versatile tire brands and models available on our website.